Tigard HVAC Services
WE'RE YOUR HEATING AND AC SERVICE PROFESSIONALS IN TIGARD, OR
Integrity Air LLC proudly provides local HVAC services, heating and cooling Portland and Vancouver homes and companies all year long.

Why choose integrity
Repairing, Installing, Replacing & Maintaining Heating & Cooling Systems in Tigard, Oregon.
When you search for HVAC professionals to service or install an AC or heating system, you are looking for an efficient and affordable team that will get the job done. You have found that here at Integrity Air. Our services range from basic air conditioning repair and installation, furnace maintenance, to extensive repairs and replacements.
We always try to save our customers money by putting in the extra effort to repair your existing HVAC system. If your HVAC system is beyond repair, we'll help you choose a new unit that is right for your home.
Searching for "AC repair near me?"
Our highly trained staff of professionals can service, maintain, or install just about any air conditioning system, heat pump, or furnace. Whether you are looking for a more efficient way to heat your home over the winter or you want to get through a hot summer without melting, we are available to provide you with rapid and efficient service.
We keep our services budget-friendly by coming to your home fully furnished with the right equipment to get the job done. Our goal is to minimize any back-and-forth and immediately fix your furnace or air conditioning system – or provide rapid installation.
If you are looking for heating or AC service in Tigard, Integrity Air is your neighborhood professional.
Air Conditioning Repair & Installation
Integrity Air, LLC has been in the business of AC maintenance, repair, and installation for over twenty years. We can service any system and provide you with all of the information you need to upgrade your air conditioner.
Furnace Repair & Installation
Our team of experienced HVAC installers have the in-depth knowledge needed to repair, maintain, or install your heat pump or furnace system. We strive to bring everything we need on each job, so that your needs are served rapidly.
Ductless Heating and Cooling
If your home was built without ducting, you can still gain the efficiency and comfort of a central air system with strategically placed ductless heating and cooling units. Our team of experts is proud to upgrade your heating and cooling so that you are comfortable in your home, 24/7.
Looking for the Portland Furnace Repair Experts? You Have Found Us!
When it comes to protecting your home and providing comfort to your family, you want the best. Even though Tigard is nestled along the Tualatin River, our city has its own unique cooling needs that don't affect the rest of the Portland Metro area.
Even though we get cooling cross breezes from the Willamette and the Tualatin, along with additional protection from the heat by the many green spaces like Bull Mountain and Cook Parks, the temperatures in Tigard can rise to extremes. During some heat waves, temperatures have gotten into the hundreds as early as May, while other, more average years we see temperatures in the high 80's/low 90's °F in the summer months.
Even if our summers are short here in the Pacific Northwest, they can be brutal. If your home is in direct sunlight or kept closed up without air conditioning, it can heat up to 90°F or 100°F. We think you will agree that this is not a comfortable living situation for you, your family, guests, and any of your pets.
However, there are simple air conditioning solutions that can help you keep your home cool during our hot summer months. Here are several that our team of HVAC professionals can provide:
-Air conditioning repair
-Installation of ductless heating and cooling
-Installing mini-split AC units for homes without ducting
-Air conditioning maintenance services
-Rapid repair of existing AC
-Installation of smart home appliances like a smart thermostat
-HVAC repair
All of the above services can help you keep your home cool during hot summers. The addition of tools like a smart thermostat or a more efficient air conditioning system can also keep your cooling bills down so they don't skyrocket over the summer.
Stay Comfortable this Summer
From Furnaces to Heat Pumps, We Have Your Tigard Home Covered
Your Heating and AC Service Professionals in Tigard, OR
If you live on a large waterway like the Tualatin River or next to a smaller waterway like Fanno Creek, winters can be particularly cold and damp. However, even if you are living in a suburban area of Tigard with no waterways in sight, the cooling effects of Portland's rivers and streams along with the wind that whips down from the Gorge can make temperatures plummet. On average, our coldest months are December through February, during which time we can get 6-7" of rain a month. Even when winter is over, temperatures may not reach 60°F until May or June, depending on the year.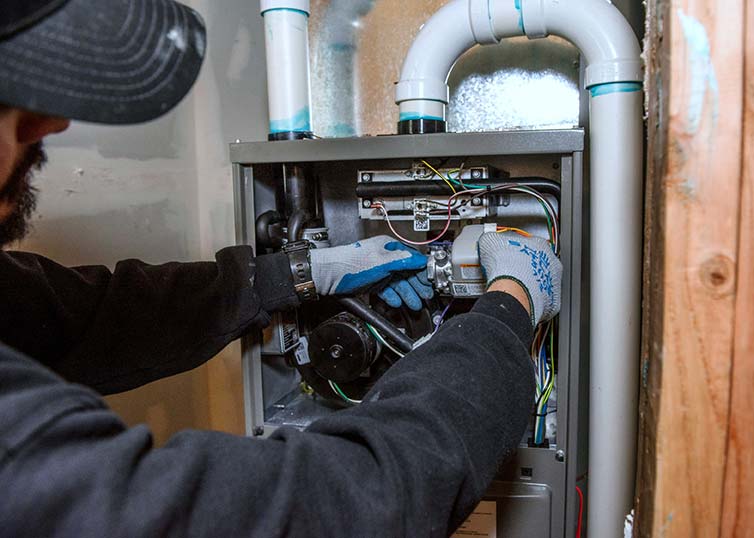 With all of these weather fluctuations and storms blowing in and out, your heating system may be working overtime to keep your home warm over the fall, winter, and spring months. While you can improve efficiency with simple home updates like sealing windows and doors, you can also boost performance with smart home upgrades, installing a new furnace system, or keeping your existing system in good repair.
That's where we come in. At Integrity Air, we work with you to find the best solution for your heating needs. Our heating services include:
Effective and long-term heat pump and furnace system maintenance
HVAC installation
Furnace repair and installation
Heat pump repair and installation
Smart home thermostat installation
Green updates to your heating system
Installing ductless heating systems
If you are hoping to reduce your heating costs over our cold winter months, get in touch with Integrity Air today. We will find the right solution to fit your budget and keep you warm throughout all of our cold seasons.
Furnace & Air Conditioner Repair in Tigard
If your heater needs repair, or your ac isn't turning on, we've got you covered. Any time you need service on your HVAC system, our skilled technicians can diagnose, adjust, or repair your system so that you are comfortable all year long. For safety reasons, you should never attempt to service your unit yourself and the longer you ignore a broken or damaged HVAC system, the more expensive repairs will be.
CONTACT US TODAY FOR A FREE ESTIMATE
Our Specialty is Your Comfort
The professional team of installers and HVAC experts here at Integrity Air Heating and Cooling Systems always has one thing in mind: your comfort. That's why we are proud to offer exceptional service during every aspect of your experience with us. Here's what you can expect when you work with Integrity Air:
Providing free, in-home estimates.
During a repair, our goal is to diagnose the problem within the first hour. We then try to have every tool and part to-hand to get your heating and air system back up and running, rapidly.
We set everything up to work with your schedule.
Our office staff and repair/installation crew are very easy to work with.
The Integrity Air team is extremely knowledgable and can repair pretty much any AC, heat pump, or furnace system out there.
When installing a heating or air system, we work with brands that we know and trust.
Integrity Air provides customized & affordable maintenance plans.
Our in-depth, full-service air conditioning and furnace cleaning is specifically designed to extend the life of your unit and system.
We are happy to work with you or with your contractor during a remodel or new home build.
We have teamed up with Wells Fargo to provide financing options with approved credit.
Our friendly staff is proud to provide timely responses and to answer any questions you may have.
All of our work is fully OSHA compliant and done to the highest standards.
Every one of our customers is our neighbor. We are genuinely happy to work with you.
Life is full of compromises; your comfort shouldn't be one of them.