Beaverton HVAC Services
WE'RE YOUR HEATING AND AC SERVICE PROFESSIONALS IN BEAVERTON, OR
Integrity Air LLC proudly provides local HVAC services, heating and cooling Portland and Vancouver homes and companies all year long.

Why choose integrity
Providing Air Conditioning Service, HVAC Repair, Family Heating & Cooling, Heating Repair, and more in Beaverton, OR
Integrity Air is your Beaverton resource for heating system installation, furnace repair and maintenance, AC repair, air conditioning installation, and AC maintenance. We are proud to help Beaverton families and homeowners in all of your heating and air conditioning needs.
If you have been searching for "air conditioning service near me" or "furnace repair in Beaverton" – you have found your neighborhood experts. Integrity Air is a local, Oregon-owned, and operated HVAC repair and installation company. Our team of technicians live and work in your neighborhood. You may have even seen our trucks driving around, serving your friends and neighbors.
We are passionate about providing a first-class service to our customers. That's why we will always give you:
Free, in-home estimates.
Rapid repairs. We keep our trucks stocked with the parts necessary to repair common heating and air concerns.
Competitive pricing.
Excellent service.
Thorough clean up after every job.
Affordable maintenance plans to keep your system running smoothly.
And more!
Our full pledge is at the bottom of this page. However, we want to ensure you know that our goal is to treat you as a valued friend and neighbor, providing you with excellent, affordable heating and cooling service.
Is Your AC Not Turning On?
Even the best air conditioning system can fail on occasion. That's why we provide air conditioning repair services for just about every issue you can name.
Call Integrity Air if your air conditioning has one of the following issues:
AC not turning on
Air conditioning not cooling or blowing hot air
AC is leaking
Your central air system is cooling some rooms but not others
AC is making strange noises or has an odd odor
Air conditioning turns on and off continuously, cycles constantly, or is behaving erratically
The AC is making a grinding sound
Your electric bills have suddenly increased – though you've used your AC all summer
The AC unit looks dirty or the filter indicator light has gone off
The above are the most common AC issues you are likely to run into. At Integrity Air, we have experience in handling every type of air conditioning problem you may encounter. Contact us today if the AC for your Beaverton home isn't working as it should.
Do You Need Heating Repair?
It's common to experience temperatures that are below freezing here in Beaverton. The extreme temperatures make efficient heating vital for any Beaverton home.
Unfortunately, any heating system can fail unexpectedly. Be sure to contact Integrity Air immediately if your furnace, heat pump, or forced air heating system experiences any of the following issues:
Furnace or central air system making strange noises
A burning smell
Unexpectedly high electric or gas bills after you've had the heat on for a while
Heater is blowing cold air
Furnace won't light or stay lit
Furnace won't shut off or is constantly cycling
Rooms in your house won't warm up
Central heating is behaving erratically
Furnace won't turn on
Hot air doesn't seem to be blowing out effectively
Moisture or mold has built up in your furnace
The above are common furnace and central heating issues here in Beaverton. Our heating and air specialists would be happy to come to your home to provide a free, in-home estimate to resolve these problems. Contact us today and we will begin the estimate process.
CONTACT INTEGRITY AIR FOR YOUR HEATING AND COOLING NEEDS
Air Conditioning Service
Whether you need to get your AC operating in the middle of a heatwave or you would like a more efficient air conditioning system, Integrity Air is your Beaverton resource for air conditioning service.
Furnace Repair
A warm home is vital to beat the chilly fall, freezing winter, and raining spring here in Beaverton! If your furnace isn't functioning properly, contact Integrity Air to get your free furnace repair estimate.
Ductless Heating and Cooling
Many of the classic Craftsman and Victorian homes here in the Pacific Northwest were not built with ducting. That's why ductless heating and cooling is a fantastic heating and cooling solution for many older Beaverton homes.
Heating and Cooling Services
Your comfort is our priority here at Integrity Air. We providing furnace and air conditioning installation, repair, and maintenance to homeowners throughout Beaverton.
We Service Most Beaverton Heating and Cooling Systems
Homes in Beaverton utilize furnace and AC systems of all makes and models. We service just about every type of home heating or cooling system you can name. Our technicians are experts in repairing, maintaining and installing:
Ductless mini-split heating and air systems
HVAC
Furnace
Heat pumps
Forced air
Air conditioning units
Central air
Wall-mounted AC
No matter the brand of heating or cooling system you are using, we likely have experience with it. Contact us today to get your system serviced or for a new installation quote.
Keeping your Beaverton Home Cool in the Hot Summer Months
On average, summers in Beaverton stay around 80° F. However, during a heatwave, we can experience weather above 100° F. This is influenced by where you live in Beaverton. For example, homes near waterways like Fanno Creek, Hall Creek, or Beaverton Creek may experience some cooler temperatures than those homes near or on major roadways and highways like Hwy 217, SW Cedar Hills Blvd, or SW Tualatin Valley Hwy.
No matter where your home is located, it's important to keep your indoor temperature at a comfortable level. Cooler temperatures improve sleep and benefit one's ability to focus when at home.
At Integrity Air, we are happy to help our friends and neighbors in Beaverton keep your homes cool during the summer. We provide the following services for Beaverton homeowners:
Air conditioner repair
Regular AC maintenance
Air conditioning installation
HVAC installation
Energy-saving upgrades
No matter your cooling needs, we are here to help. Contact Integrity Air today to get a free estimate.
Integrity Air Is Your Beaverton Heating and Cooling Company
The expert technicians at Integrity Air are very familiar with Beaverton area heating and cooling needs. You may have seen our trucks and vans as we assist your neighbors with their furnaces, heat pumps, forced air systems, ductless heating and air, central air, and AC units.
Our goal is to provide you with the best service possible, making your home a comfortable place for your friends and family to enjoy all year round. If you need installation, maintenance or repair services here in Beaverton, contact us. Integrity Air is a local company based right here in Oregon. Our service professionals are your neighbors and we treat every client just as we would treat friends or family.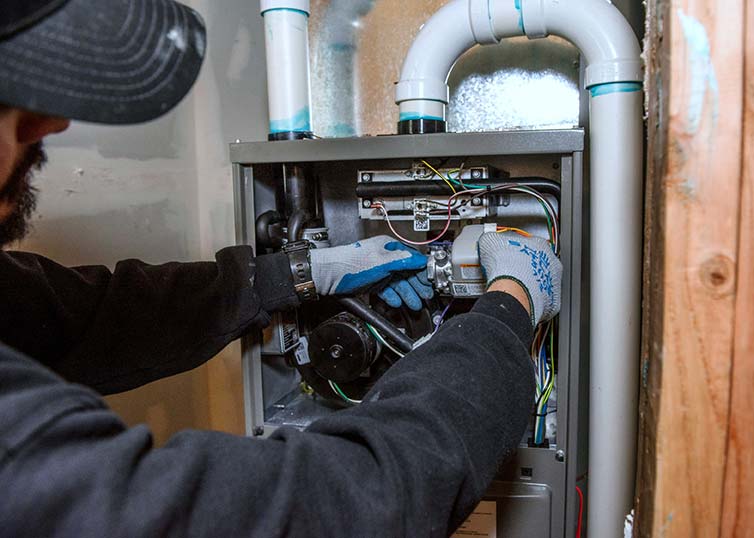 Heating Your Beaverton Home with Furnaces, Heat Pumps, and More
Temperatures in Beaverton can go below freezing in the winter, with mild snowstorms most likely to occur in January or February. Some freezing temperatures have gone into the spring here in Beaverton and we've gotten pretty bad snowstorms as well, but they don't happen frequently.
While Beaverton is a great place to live and most people would say our weather is pretty temperate, it's also just about impossible to live here without some kind of heating system. Integrity Air is your nearby heating service, providing you with furnace installation, repair, and maintenance.
Our skilled team of professionals is proud to share our in-depth knowledge with Beaverton homeowners from SW Barrow Rd to NW Sunset Highway. Contact us today to get your free, in-home estimate.
Our Specialty is Your Comfort
The professional team of installers and HVAC experts here at Integrity Air Heating and Cooling Systems always has one thing in mind: your comfort. That's why we are proud to offer exceptional service during every aspect of your experience with us. Here's what you can expect when you work with Integrity Air:
Providing free, in-home estimates.
During a repair, our goal is to diagnose the problem within the first hour. We then try to have every tool and part to-hand to get your heating and air system back up and running, rapidly.
We set everything up to work with your schedule.
Our office staff and repair/installation crew are very easy to work with.
The Integrity Air team is extremely knowledgeable and can repair pretty much any AC, heat pump, or furnace system out there.
When installing a heating or air system, we work with brands that we know and trust.
Integrity Air provides customized & affordable maintenance plans.
Our in-depth, full-service air conditioning and furnace cleaning is specifically designed to extend the life of your unit and system.
We are happy to work with you or with your contractor during a remodel or new home build.
We have teamed up with Wells Fargo to provide financing options with approved credit.
Our friendly staff is proud to provide timely responses and to answer any questions you may have.
All of our work is fully OSHA compliant and done to the highest standards.
Every one of our customers is our neighbor. We are genuinely happy to work with you.
Life is full of compromises; your comfort shouldn't be one of them.